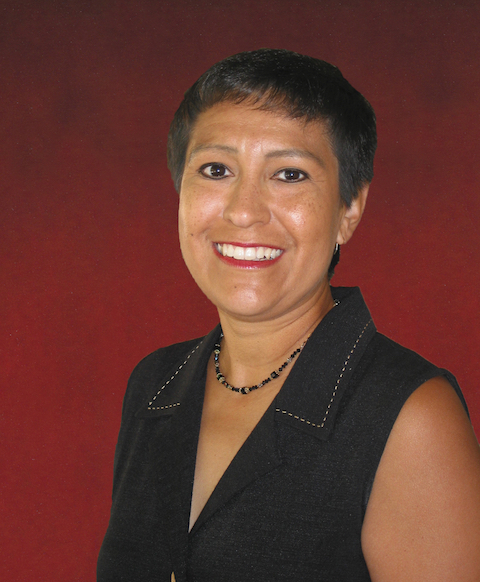 Chancellor picks veteran administrator for interim president

Foothill-De Anza Community College District Chancellor Judy Miner has named veteran administrator Christina Espinosa-Pieb as the interim president of De Anza College starting July 1. Espinosa-Pieb has worked at De Anza for almost 40 years, rising from student employee to vice president of instruction. She will succeed President Brian Murphy, who is stepping down June 30.
"Christina's work ethic, sense of fairness, commitment to De Anza's core values, community engagement, and unwavering advocacy for student equity are just a few of the many characteristics that position her to lead De Anza successfully through challenging times to an even higher level of educational quality," Miner said. "I worked directly with Christina at De Anza for nine years and know that her dedication to the college is unequaled. I very much look forward to her contributions to De Anza and our district."
Miner's appointment of Espinosa-Pieb to serve through Dec. 31, 2019, will go to the district's Board of Trustees for approval at the next regular meeting in June.
"Throughout my career at De Anza College, I have been deeply committed to the success of our students, and it is an honor to have the opportunity to continue this commitment as interim president," Espinosa-Pieb said. "I will make every collaborative decision with care for our employees and our college, and dedication to preserving the programs and services that most impact the success of our students. It is a true privilege to serve the college I myself attended as a first-generation student, and that both of my children transferred from as well."
As vice president of instruction since 2008, Espinosa-Pieb leads the college's nine instructional divisions, which educate about 20,000 students each fall. She plays a central role in the hiring and evaluation of faculty and has been a strong voice for equity and diversity in hiring throughout her career at De Anza. The vice president of instruction oversees an annual budget of $80 million and represents the college in negotiations with the faculty association. Espinosa-Pieb also leads the college's enrollment management efforts and participates in many shared governance activities.
Espinosa-Pieb initially came to De Anza College as a community volunteer, working with disabled students. Her employment with the district began a few months later, in 1980, as a student employee.
Over the next 18 years she worked in a variety of increasingly responsible positions – including administrative assistant, lead affirmative action representative, and coordinator of Disabled Student Programs and Services – before becoming dean of academic services in 1999. In the dean's position she oversaw offices devoted to diversity and staff development, managed Learning in Communities (LinC) and Honors programs, led the tenure review process, and acted as the college's accreditation liaison officer.
During a leadership transition in 2003-04, she served as interim vice president of instruction before resuming her work as dean. She was selected for the permanent vice president of instruction position in 2008.
Espinosa-Pieb's story is one of determination, hard work and a desire to help others realize their potential and succeed. She learned about the benefits of a De Anza College education firsthand by taking classes at night while working full time, ultimately leading to her career in higher education.
Her initial goal in taking classes was to become a secretary in the college's Disabled Student Services Program. By the time she accomplished that goal, she'd become a devoted lifelong learner. She went on to earn a bachelor's of science degree in business administration from the University of Phoenix, then a master's degree in international and multicultural education from the University of San Francisco, both while working full time. She has completed all but her dissertation in Walden University's doctorate program in community college leadership.
Informed by the variety of positions she has held at De Anza, Espinosa-Pieb is a strong advocate for the integration of instruction and student services to support student success and retention. For several years she also taught a course at the college, Women of Color in the U.S.A.
Espinosa-Pieb grew up in Corning, a small town near Chico, CA, with her parents and seven siblings in a three-bedroom, one-bath home. In these circumstances, she said, "communication and respect for others was an absolute necessity each day." As child number six, Espinosa-Pieb attributes her people skills, strong work ethic and love of multi-tasking to her upbringing.
She and her husband are longtime residents of Cupertino where she is a member of the Rotary Club. Their two children graduated from De Anza College and transferred to the University of Southern California and the University of California, Berkeley.
Espinosa-Pieb will serve in the interim president role though the end of 2019. Beginning in winter of 2019 the district will begin a nationwide search to fill the permanent position.
--
Posted May 15, 2018