Moving to Trustee Area Elections
On March 11, 2019, the Foothill-De Anza Community College District Board of Trustees adopted a resolution stating that the district will change the way that voters elect trustees. Instead of electing trustees "at-large," voters will elect trustees from five geographic areas beginning in November 2022. The process for making the transition is getting under way this year.
This webpage is intended to help you learn about the process, submit comments and questions, and stay informed. Public participation is essential and your involvement is welcome and encouraged.
All aspects of the process for creating trustee areas will be conducted in public. A timeline and meeting notices will be posted here showing when key events will take place. The district will provide some translations of material in languages other than English.
Effects of delay in 2020 Census results
2020 Census results are an essential element in drawing trustee area boundaries. Census results originally were set for release in April and then were pushed back to July. Now the soonest they are expected to become available is late September, and other key deadlines also are in flux. As soon as some of the timing issues are resolved, a timeline will be posted and publicized.
In the meantime, below you will find:
Recordings and a copy of a presentation giving an overview of the process for establishing trustee area elections
Background information on the events that led to the Board of Trustees decision to switch to trustee area elections
Questions and answers link
Contact information
Look Up Your District link
District boundary map link

Recordings of presentation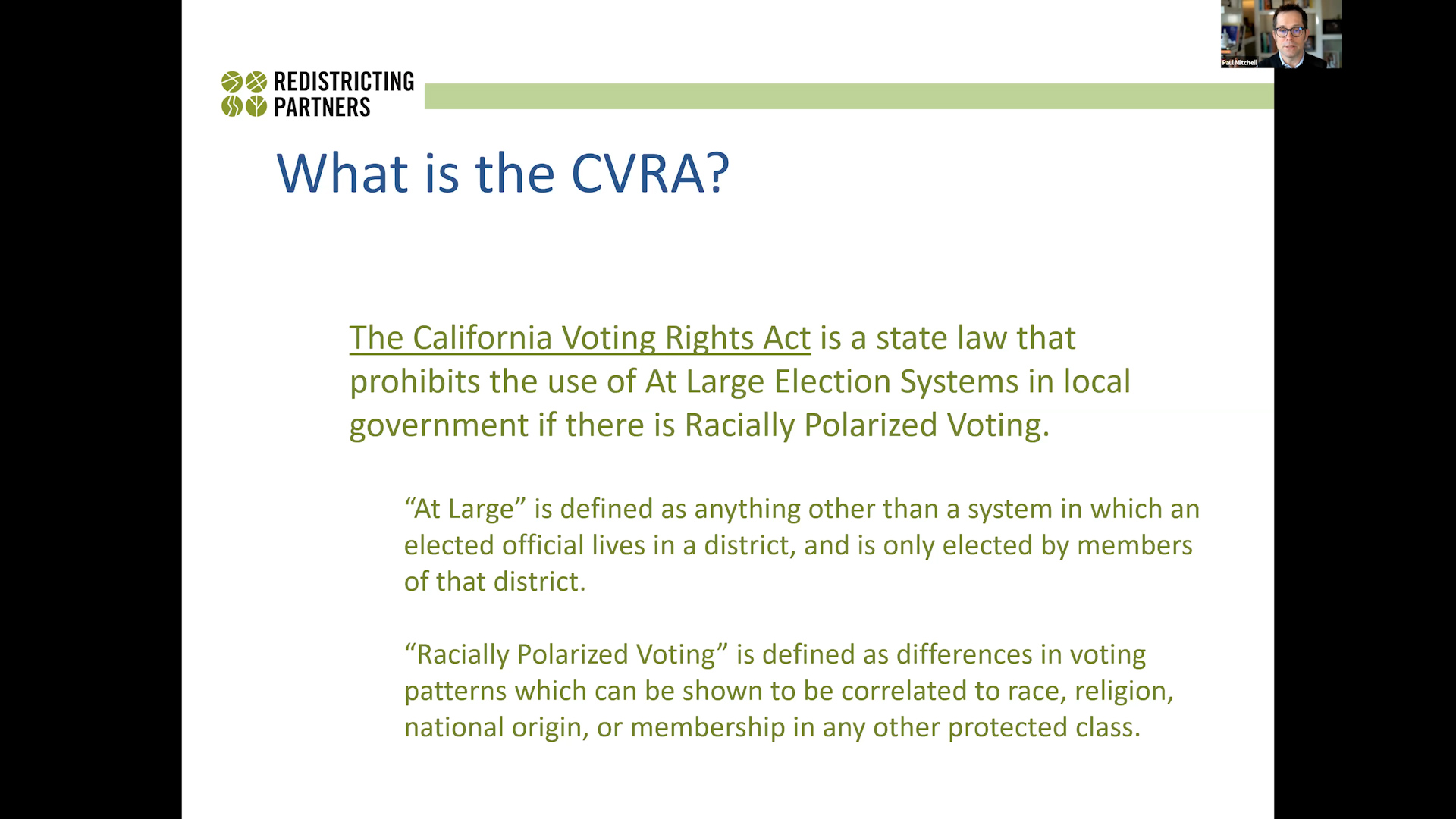 This is an overview presentation given on March 8, 2021, to the Board of Trustees by Paul Mitchell, owner of Redistricting Partners, a consulting firm that is assisting the district with the process of moving to trustee area elections.
In Part 2 of the recording, members of the Board of Trustees ask questions of Mr. Mitchell about the process.


PowerPoint Presentation (PDF format)
From March 8, 2021, Board of Trustees meeting.

BACKGROUND INFORMATION
At-large versus area elections
In the district's current system of at-large elections, trustees are elected by registered voters in the district, and the candidates who receive the most votes are elected to the available open seats. Candidates may live anywhere in the district.
In trustee area elections, which are sometimes called "by-district" elections, the Foothill-De Anza district will be divided into five geographic areas of roughly the same population size, and a trustee will be elected by registered voters from within each area. To run for election in a particular trustee area, the candidate must live in that area.
Considerations in creating trustee area boundaries
Trustee area boundaries will be drawn using 2020 census information to ensure that each area is roughly the same size. The boundaries also will consider such things as existing local government boundary lines – city and school district boundaries, for example – as well as information gathered from the public about "communities of interest." A community of interest is a group of people who have similar interests and live in a geographically definable area.
The Board of Trustees will hold at least two public hearings to gather information about communities of interest. In addition, a form will be posted on this webpage that people can use to describe communities of interest that they would like to be considered when boundaries are drawn.
Why change election systems?
The board's decision to transition to area elections followed a claim submitted in 2019 by an attorney on behalf of a district voter, Sebastian Aguilar. The claim stated that the district's at-large election system may violate Mr. Aguilar's rights under the California Voting Rights Act (CVRA) because of allegedly racially polarized voting in the district and in jurisdictions that make up the district.
Racially polarized voting is characterized by differences in voting patterns that correlate to race, religion, national origin, or membership in any other "protected class" that historically hasn't had equal opportunity to participate in the political process by voting. When there is racially polarized voting, voters in a protected class prefer candidates or ballot measures that are different from those preferred by the rest of the voters.
The district disputes Mr. Aguilar's claim that at-large trustee elections in the Foothill-De Anza Community College District are characterized by racially polarized voting and notes that trustees of diverse races and ethnicities are elected to the Board of Trustees.
However, recognizing that the California Voting Rights Act strongly favors area elections over at-large elections and that it is intended to protect voting rights, the Board of Trustees opted to avoid the expense and uncertainty of litigation and voted to switch to trustee area elections beginning with the November 2022 general election.
In recent years, dozens of legal claims similar to Mr. Aguilar's have been lodged against school districts, special districts, and cities and counties throughout California to promote area elections. Most jurisdictions have agreed to make the change rather than engage in litigation. The district is not aware of any public agency that has successfully defended a California Voting Rights Act challenge.
CONTACT INFORMATION
If you have questions or comments about the move to trustee area elections, please email chancellor@fhda.edu and give your name and number if you wish to be contacted by phone. You may also leave a voicemail message – clearly stating your name and phone number – at (650) 949-6100 or (650) 949-6107.
DO YOU LIVE IN THE DISTRICT?
If you are unsure if you live in the Foothill-De Anza district, you can find out by typing in your address into the Look Up Your District tool on the website of the Santa Clara County Registrar of Voters.
DISTRICT BOUNDARY MAP (PDF format)